Circa, Inc. is the Eaton Authorized Representative for Oklahoma specializing in Uninterruptible Power Supplies (UPS). Our knowledge of Eaton's diverse line of UPS products, services, and accessories allows us to provide the most reliable and cost effective means to protect your business from critical downtime. We understand Oklahoma can be unpredictable, which is why we strive to provide backup power solutions that provide peace of mind for you and your business.
What is an Eaton Authorized Representative?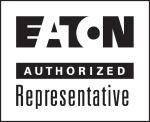 Eaton Representatives focus on end-users, engineers, architects, contractors, and integrators. They specialize in medium and large data centers (5+ racks); complex power solutions and represent the complete line of Eaton solutions.
Already a Circa Customer? For all other inquiries please see our Contact page for all other contact information regarding billing and orders. We thank you for your business.
Please contact us with your power solution needs. We are ready to help!